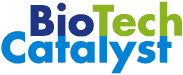 Our Focus and Expertise is International Commercialization, Business Development and Technology Scouting services for Emerging Life Science companies, Entrepreneurs, Life Science Investors and potential Strategic Partners.
Advantages
BioTechCatalyst's advantages are:
Expertise in Life Science Commercialization and International Business Development - Accelerating your momentum
Mary Page, BioTechCatalyst CEO, has more than 25 years of experience and proven results in challenging senior roles in the Life Science Industry and business dealings with a diverse range of companies in the USA, Europe, Japan, Russia, Asia and Australia
Competitive Edge - Boosting your efficiency
BioTechCatalyst's expertise, skills and goal-oriented approach maximize your opportunity for success
Hands On- Helping you maintain your lead
BioTechCatalyst implements or can help you to implement your specific business development needs. The service is "hands on" and not only advice.
Cost Effective - Increasing your activities
BioTechCatalyst's expertise enables you to avoid or postpone the overhead of dedicated employees without foregoing growth bringing activities or achievements
Efficient - Catalyzing your commercialization
BioTechCatalyst catalyzes your path from development thru to partnering and commercialization
Network - Enhancing your options
BioTechCatalyst has an excellent contact network and updated data base covering international life science companies and the investment community with which to catalyze partnering and/or investment projects.
- Isaac Newton (1642 - 1727)
Favorite quote:
"If I have seen further it is by standing on the shoulders of giants."